Today,  I would like to give you my checklist to start meditating. To be fully effective in your daily meditation, follow it step by step:
Commit to the meditation practice and fit it into your daily schedule. Decide if you want to do it in the morning after waking up or in the evening before going to bed.
Find a quiet, peaceful spot in your house, where to sit, without being disturbed. No electronics around (no computers, phones etc). Always sit there, to create a habit. It will be your "sacred spot", just waiting for you each day.
Switch off all your devices (telephone and other disturbing sounds).
Use a timer. Set 10 to 15 minutes to start.
Sit up either on a chair, with your back straight and hands on your lap, or cross-legged on the floor (better on a yoga mat or a carpet). In this position, you can sit on a cushion to have your hips elevated compared to the knees, so your back is straight. Remember: you should be comfortable, as you will stay around 15 minutes immobile, without pain in the body (otherwise you will be distracted and it will be impossible to meditate).
Warning: never meditate lying on the bed or on the floor, as it will be easy to drift into sleep.
Close your eyes, focus and breath.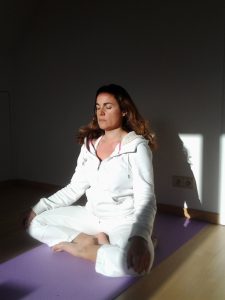 For the meditation technique, go to my  Tapas for life course:
https://tapasforlife.teachable.com/p/meditation-a-practical-guide