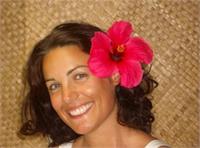 Born in Cuneo, Italy. I studied Law. Now, I am a Yoga teacher and a painter, too.
My yoga path started in 2003, during a stressful period. I soon experienced the fullness of the practice and the transformation in the body and mind through the system developed by Shri Yogi Hari, my teacher, called "Sampoorna Yoga": the Yoga of Fullness. The enthusiasm for yoga changed the course of my life and career. In 2012, I certified myself as a Sampoorna yoga teacher (E-RYT500) and I left my job as a lawyer. In 2012 and 2013, I specialized myself in Children's Yoga Teacher (RCYT 95) with Bryony Duckitt at Yoga Beez, London and now I dedicate my time fully to sharing yoga with children in schools, families and adults. I am a Yin Yoga Instructor (180 hours), assistant of Joe Barnett, when he is in Brussels. In 2019, I became certified in Yoga Nidra with Chitra Sukhu, the daugther of Yogi Hari. I love teaching and practicing yoga. It helps me remain strong, grounded and happy. Chitra is my "yogic" name, given by my teacher Shri Yogi Hari.
I am passionate by Art, especially contemporary and abstract art. My paintings are "color in motion". I often use vibrant colors directly on the canvas (mostly oil and acrylic), following my inspiration and my instinct. It is the color who creates the volumes which are characteristic of my work. This passion for colors and their symbolism has always been present in my paintings, since the beginning in 2007 at the "Ateliers Machri" in Brussels.